NYC alumni elected to University's board of trustees
May 18, 2016

Syracuse University is pleased to announce that Richard M. Alexander L'82, Neil A. Gold '70 and Deborah (Gluckman) Leone '86, G'87 have been elected as members of the Syracuse University Board of Trustees at the recent Board meeting. Steven W. Ballentine '83 was re-elected as a voting Trustee after serving the last six years as a life Trustee and the previous 12 years as a voting Trustee.
"We welcome these members to the Board," says Steven W. Barnes '82, chairman of the University's Board of Trustees. "They bring a wealth of knowledge and expertise that will add even more depth to the Board's work. We are grateful for all they have done for Syracuse University, and for their willingness to serve as Trustees."
Says Chancellor Kent Syverud, "Richard, Neil, Deborah and Steve have deep ties to Syracuse and have shared their expertise with us in many ways over the years. I know they will be great assets to the Board. And I look forward to working with them to further advance our mission and goals."
Student Association President-Elect Eric Evangelista '17 and José L. Marrero Rosado '17 were named as undergraduate student representatives to the Board. Evangelista is pursuing degrees in history and political science in the College of Arts and Sciences and the Maxwell School of Citizenship and Public Affairs. Rosado is majoring in biochemistry and anthropology in the College of Arts and Sciences and the Maxwell School.
Graduate Student Organization President-Elect Rajesh Kumar, a student in the College of Engineering and Computer Science, will serve as the graduate student representative.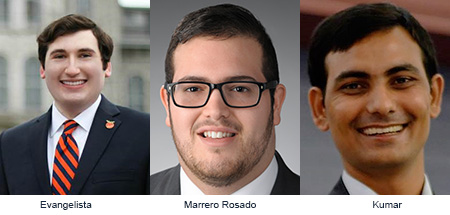 Bethaida "Bea" González, dean of University College, and Mary E. Lovely, professor of economics at the Maxwell School of Citizenship and Public Affairs, continue as the dean and faculty representatives, respectively, for the 2016-17 academic year.
Alexander practices in the financial services area of the global Am Law100 firm Arnold & Porter LLP in Washington, D.C. His practice involves some of the most critical enforcement, supervisory and governance matters affecting the financial services industry, representing the companies and their officers and directors, as well as accountants and attorneys, in enforcement or investigative proceedings brought by federal or state agencies He served as managing partner of the firm from 2005-2015 and became its chairman on Jan. 1, 2016.
Alexander graduated magna cum laude with high honors from Brandeis University in 1979. He is consistently listed in Chambers USA's "America's Leading Lawyers for Business" for Financial Services Regulation: Banking (Enforcement & Investigations) and "The Best Lawyers in America" for Banking and Finance Law. He serves on the board of trustees of the Edmund Burke School of Washington, D.C., and Justice in Aging, a national advocacy organization fighting senior poverty through the law. Alexander has been on the College of Law Board of Advisors since 2013. He lives in the Washington, D.C., area, with his wife, Emily.
Gold was co-owner of his family's business, Gold Pure Food Products, which was founded in 1932 in Brooklyn by his grandparents, and recently purchased by LaSalle Capital, a private investment firm based in Chicago. A member of the third generation of Golds involved in the company, Gold was vice president responsible for marketing, sales, shipping and computing before retiring. Gold more recently went into business with his daughter, Amanda J. Gold '08, a graduate of the Whitman School of Management. They are partners in three women's clothing boutiques in Armory Square. Gold is a trustee for Vera House Foundation, Syracuse. He and his wife, Helene, live in the Syracuse area.
Gold, a graduate of the College of Arts and Sciences, is a member of the Syracuse Stage Board. He served as president of the National Alumni Association Board and as an Alumni Trustee from 2005-2007. Gold is a past member of the Falk College Board of Visitors and of the National Parents Advisory Board.
Leone is director of internal audit at Goldman Sachs and serves as an observer on a variety of Goldman Sachs firmwide committees. Leone joined Goldman Sachs as an analyst in 1989, and was named managing director in 2003 and partner in 2008. Leone is a CPA and started her career at Price Waterhouse in New York in the financial industry service group. Leone is with the UJA Federation of New York Professional Women's Philanthropy and with Junior Achievement Worldwide.
For Syracuse University, Leone, who earned a bachelor's degree in accounting and an M.B.A. from the Whitman School, serves on the Whitman Advisory Council. Leone received the Whitman Dean's Citation in 2013. Leone resides in Manhattan with her husband, Louis D. Leone '87 (College of Engineering and Computer Science), and their two children.
Steven W. Ballentine is president and CEO of Ballentine Capital Management Inc., an investment management firm he founded in 1989.
Ballentine has been a portfolio manager and analyst for more than 30 years. He started his investment career with the Prudential Life Insurance Co. of America in 1983 as an equity analyst and portfolio manager. Ballentine managed the Prudential-Bache Utility Fund and the Prudential-Bache Equity Income Fund until 1987. From 1987 to 1989, he was a limited partner in a private long-short equity hedge fund management firm before founding Ballentine Capital Management, Inc.
For Syracuse University, Ballentine is a member of the Society of Fellows, the Whitman Corporate Advisory Board and Athletic Director's Advisory Council, and a supporter of the Whitman School of Management. He funded the Ballentine Investment Institute. He serves on the Board's Executive, Athletics and Investment & Endowment committees. He chaired the 2015 director of athletics search committee. Ballentine was also the recipient of the Whitman School of Management's Jonathan J. Holtz Alumnus of the Year Award for 2003. He and his wife, Beth '83, are the parents of two grown children.